Lockheed Martin Bets Big on Quantum Computing | PCWorld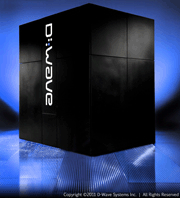 It used to be that computers work with 1s and 0s... Not anymore.
Now it can be 0, 1, anything in-between, or 0 and 1 at the same time...

"D-Wave says quantum computers can be used to solve hard problems that ordinarily take too long even for supercomputers. Some examples: Financial risk analysis, object recognition in images, computer vision, and bioinformatics -- the types of analytical thinking that people are good at, but computers find difficult."

After recent security breach, that caused
Lockheed Martin to reset password
for all employees, this new technology with promise of "quantum leap" in speed could be helpful...
We just need to figure out super complex quantum world and
how to program quantum devices.
"
qubit
", the fundamental building block of quantum computers
Apparently
Google is already using (or testing) this technology...

Google Demonstrates Quantum Algorithm Promising Superfast Search

Here is a fascinating
interview with David Deutsch, Oxford don who's been called the founding father of quantum computing.

@OnPoint Radio
...For eons, little changed on this planet, he says. Progress was a joke. But once we got the Enlightenment and the scientific revolution, our powers of inquiry and discovery became infinite. Without limit...